About Us
Group Businesses
"Evidence" is our keyword as we create synergy in all areas of the Soiken Group
The key concept for the Soiken Group is evidence based on biomarker technology. We have increased business fields based on this concept, expanding from medicine and healthcare services to food and cosmetics, providing support for everything from product development through to marketing, proxy services, contracted services, and sales.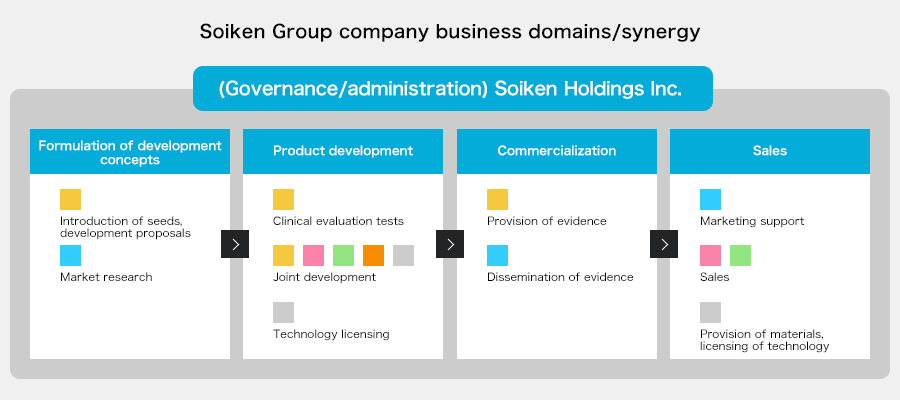 Soiken Inc.
Virus Ikagaku Kenkyusho Inc.
Evaluation/Testing
Biomarker Development

We provide clinical evaluation tests for foodstuffs using biomarker technology, and carry out licensing and joint development of biomarker technology.
Pharmaceutical Clinical Research Support

This division provides support for clinical research and epidemiology studies led by doctors who aim to build up scientific evidence for prescription drugs.
Healthcare Support

This division provides various services that cater to health insurance societies in Japan, including contracted specific health guidance, specific health checkup promotion services for the dependents of those insured, and a service to prevent severe diabetes.
Evidence Labo Inc.

Marketing

This company provides marketing research and post-marketing surveys for dietary supplements in collaboration with doctor associations.
Bb Laboratories Inc.

Cosmetics

This company provides high-functionality cosmetics to the market with a focus on products using placenta extract under the brand name of "Placenta Laboratory".
Japan Preventive Medicine Inc.

Dietary Supplements

This company provides unique dietary supplements such as Imidapeptide, which was a result of the Anti-Fatigue Project, a joint research project between industry, government, and academia. Products are created using the Soiken Group's biomarker technology and the know-how gained through developing food products.
NRL Pharma Inc.

Functional Material Development

This company is engaged in the research, development, and sale of functional materials such as lactoferrin. It also develops pharmaceutical products from compounds such as ascochlorin derivatives.